CROXON FO is a product based particle board flexible polyurethane foam of different densities, forming a homogeneous and stable composition and specially designed to reduce impact noise. A porous cell structure and very peculiar physical and mechanical characteristics. The product is recycled and recyclable.
CROXON PROTECT is the structural protection mat for high-quality waterproofing systems and insulation systems in accordance with DIN 18195 Part 10.
CROXON PROTECT provides outstanding protection of waterproofing systems on flat roofs, green roofs, terraces, parking garage decks, in bridge and road construction and in landscaping.
CROXON PROTECT equally successful in other application sectors including below-ground structures such as underground garages as well as waterways, dikes and dams.
CROSONE XP is a thixotropic elastomeric complex, specially formulated for the treatment of low frequency sound insulation, with acoustic properties and adhering very high, providing exceptional qualities important for the formulation of thick membranes "in situ" between plasterboard plates, the sealing of the insulating walls and other elements
CROSONE 248 is an elasticising product specially formulated to modify phonic frequencies, both low and high, the soundproofing elements, in order to improve its sound insulation through the formation of thick elastic membranes "in situ." At the same time, it has adhesion properties which allow their union of insulating materials together or to other elements normally used in construction.
CLEMPOL TN
is a product based on a recycled rubber sheet, and pur foam complex for the absorption of the stationary frequencies. Its very technique design with a low natural frequency, besides of the rubber sheet for deadening the impact noise, makes it ideal for making floating floors subdued to severe transmission of vibrations and impact noise.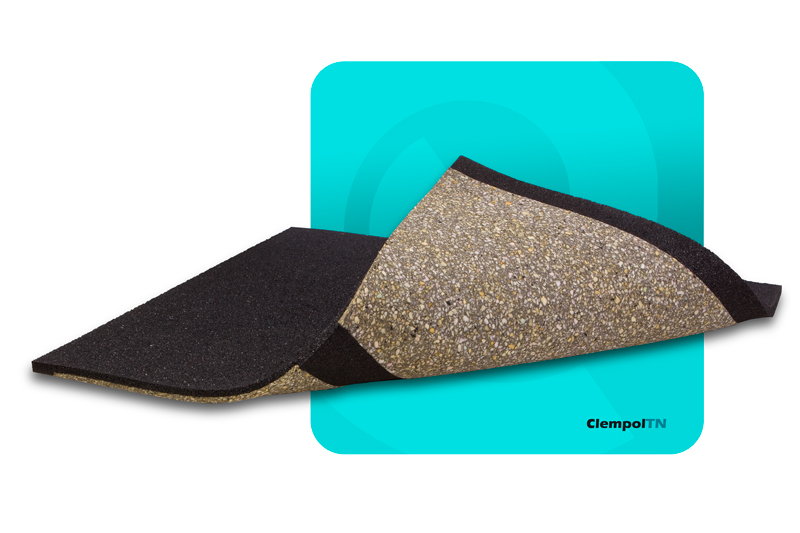 Clempocork Black is a heap of granules of expanded cork, nature plant with excellent acoustic and termal insulation properties, compacted by inorganic flexible binders.
Its mechanical and physical properties are maintained for an indefinite period of time. Clempocork Black components come from the pruning an trimming of oaks.

CROXON PARQUET is a composite made of recycled rubber and foam specially designed as multipurpose treatment both impact and soundproofing under parquet floor. Acoustically combines excellent noise isolation with all the expected qualities of an acoustic diaphragm with a thickness between 12 and 15 mm. Easy to install and handle.